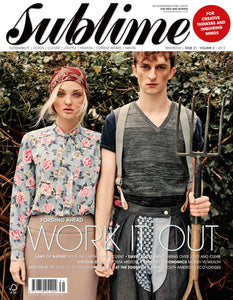 Limited Edition 
WORK IT OUT – FORGING AHEAD
 A clear sense of purpose can get you a long way.
As we step into our sixth year of publishing, we can't help asking: Is anything changing? Are we making a real difference?
Last year's media scandals in the UK exposed a lack of democracy, freedom and impartiality in the press, with the monopolistic power and corruption underlying some sections of that world finally laid bare. It is just the tip of the iceberg, but it's encouraging to see the truth starting to emerge.
What's clear is that if we want to change the world, we need to change the media – or rather – the people behind the media.
For us, the call to provide an alternative to a model that promotes little more than frivolity and consumerism has grown stronger. Our passion remains in creating content that is pluralistic, considerate, honest, relevant and meaningful – content that speaks from the heart.
Sublime is here to give a voice to people who have no representation, to support democracy and peace, to advance social and environmental sustainability, and to do all this in an open, creative space where positive ideas and collaboration can flourish.
To lead such a countercultural charge is not easy, but we know why we are doing it: we want to build a better world.
We are inspired by the feedback and continuing support of people who believe, as we do, that there is better way. Whatever the challenges, we'll work them out.
Laura and Damian Santamaria
Editorial Directors