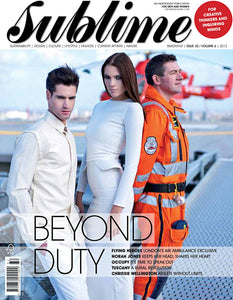 Limited Edition 
BEYOND DUTY
Whether we know it or not, we are privileged people. And as such, we have it within our power to serve others. We have a responsibility to invent, to produce, to create, to deliver goods and services that make life better for the greatest number of people. In short, to invest our time and energy in things that are bigger than ourselves.

In this issue, we explore stories that are marked by unselfish service and humility, hard-to-find traits in this age of individualism. But we believe that the life of the community and individual achievement need not be mutually exclusive. While striving for personal success, we can also make ourselves available to serve others.

Dot Richardson, an American orthopaedic surgeon and Olympic softball gold medallist once asked an audience of graduates not to squander the 'moments in our lives when we are given the opportunity to make a difference in the lives of others'. After winning her medal, she brought it to the children's hospital in Los Angeles where she worked and placed it around the neck of each child there, some of whom had undergone brain surgery. 'I wanted to make sure every one of those kids got to wear that medal,' she replied when asked why she'd done that.

Service to others ennobles us; it builds bridges that overcome differences and makes us stronger by knitting us closer together. It makes our minds more open and our hearts wider. It fills our lives with a more transcendent kind of significance.
Laura and Damian Santamaria
Editorial Directors