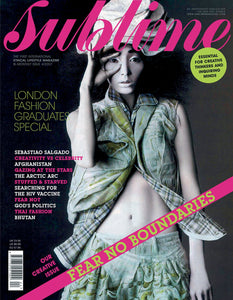 Limited Edition 
FEAR NO BOUNDARIES

This issue marks our first year of publication. It's customary at such a moment to overflow with thanks to those who have helped towards our own very great achievement.

Humbug. We feel more like the late Roberto Goizueta who, when asked how he slept at night, given the pressure he was under as boss of Coca-Cola, said 'I sleep like a baby.' The interviewer was duly impressed. 'You don't understand,' Goizueta explained. 'I wake up every two hours and cry!'

There were certainly things we didn't know about producing a mainstream magazine. But the surprises can be fun, such as appreciative emails from readers who've picked up Sublime in continental airports when we didn't even know they were on sale there!
In The Seven Basic Plots Christopher Booker outlines the types of stories mankind tells. We feel that our first year has been a glorious mix of Overcoming the Monster and Comedy; the taut drama of David and Goliath coupled with the hilarious mishaps of  The Marriage of Figaro.

There's no doubt we've pushed our own boundaries. But we're glad to have followed our dream to do something radical, refusing to join the look-alike game of the glossy magazine.

And we are truly grateful for the support and encouragement we've received from our readers and contributors, as we cross the one-year mark and live to publish another day.


Laura & Damian Santamaria
Editorial directors