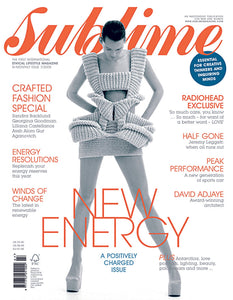 Limited Edition 
NEW ENERGY
Last year saw an awakening of the media to the problems of energy and climate change. Whether fashion trend or serious matter for debate, the issue has finally come out at the top of the agenda. Scientists, NGOs, companies, governments, individuals – we are all trying to figure out the next step, since fossil-fuel dependency, on which our modern societies rely, is no longer an option.
Although many people have been working on the case for decades, it is now obvious to everyone that it is an intelligent move to incorporate renewable sources of energy into our lifestyles. The time is ripe to make a serious, imaginative assessment of the situation and create platforms for change.
Unlike other situations mankind has faced throughout history, the energy problem will not be solved by politicians or scholars alone, but by the input of us all. Perhaps for the first time, we are all architects of the future helping to improve our quality of life by building a cleaner and lasting world.
2008 is the beginning of a new era. With this issue, Sublime would like to mark the biggest opportunity for change in human history since the industrial revolution.
Bring on the clean-energy revolution!
Laura & Damian Santamaria
Editorial directors