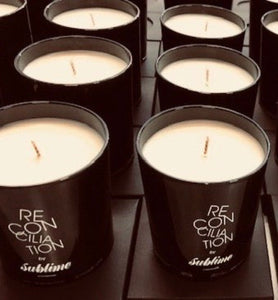 Product description:
This 300g candle is vegan, natural, sustainable, plastic-free and guarantees 92 hours of burn time – perfect for shedding some light when winter nights feel almost never-ending. We use only unleaded organic cotton wicks, and natural fragrances.
You will receive one luxury scented candle, hand-crafted in Lombardy, Italy. The candles are made using purely vegetable waxes, respecting the local artisan tradition and zero-carbon production.
Scent/fragrance:
Amber - warm, musky, rich and honey-like; somewhat oriental and earthy.
Presentation:
Sleek, black glass container, reusable and/or recyclable.
Packaging:
Each candle is packaged in an innovative cardboard display box. Adding class to the candle, it also ensures the set is plastic-free and recyclable.
We offer free UK shipping.
By purchasing this product, you are changing the world.